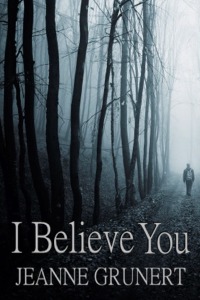 "I Believe You" Is Now Available
Paperback version
I'm thrilled to announce that my new novel, I Believe You, is now available! Reader response has been swift and overwhelmingly positive to my latest fiction. You can grab your copies on Amazon. Paperback and Kindle versions are both available.
The book follows the story of the Majek family as they struggle to cope with the loss of Cathy, David Majek's wife. Cathy was killed in November in an unsolved hit and run accident, and now, almost six months after, strange things have started to happen. A stranger lurks under the street lamp one night. David finds $100,000 missing from his bank account. The same music haunts him, a repetition of the opening bars of Chopin's F# minor Polonaise…

[youtube https://www.youtube.com/watch?v=ehm_kDU563Q?list=PL6rEG-0T7MXL1r8mE7Y5uSouBHcktD4A_]
As David struggles to solve the mysteries surrounding his wife's death, he also struggles with single parenting his 11-year old, deaf son Eddie, his teenager Josh, and his eldest, Alex, and coping with being widowed. It's a story you won't soon forget and one that keeps the pages turning while immersing you in the realistic world of Long Island's famous, wealthy "Gold Coast" and its business giants.
I hope you enjoy it. If you'd like to read what others are saying, check out the first reviews on Amazon and order your copy today.