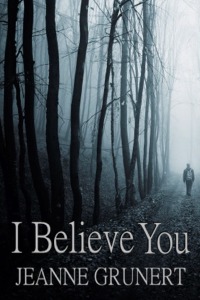 The primary setting for my novel, I Believe You, is Long Island's famous "Gold Coast." The Majek family lives in Brookville, an elite, upscale town on the North Shore of Long Island. Although Tibor, David's father and the patriarch of the family, still lives in Bellerose, I purposely chose Brookville for David. Here's why.
To me, Bellerose represents the immigrant families who were moving up in the world. My grandparents were such a family. My grandparents immigrated from Germany in the early 20th century and lived in a roach-infested tenement in the Bronx until my dad was a teenager.
Immigrants saved their pennies to move out of the tenements and into their own homes. My grandparents, especially my grandmother, cherished her little home in Bellerose. To her, it was everything she had dreamed of in America.
In the early 1940s, my grandparents finally achieved the American dream – a house! They purchased a Cape-style house on a tiny lot in Bellerose. Next door were immigrants; on the other side was a family whose ancestors arrived on the Mayflower. They were proud of that fact. I remember it distinctly because they had a plaque in the living room to commemorate their ancestry.
When I needed to place Tibor and indeed, the entire Majek family, in their home, my thoughts strayed to my grandmother's neighborhood in Bellerose. I couldn't image more of a melting pot and a place where Tibor, who may have exaggerated just a little bit, who had grown up with a dirt floor in his native Czech Republic, would feel he had finally "arrived" at the American dream.
But David? Not David. Contrast Tibor's modest house with David's "Gold Coast" Tudor home. "Your house is too big," little Elizabeth says to him in the book. "It's like a castle." I wanted to imply Gold Coast mansion, even though I think David's house falls slightly short of mansion status.
Marrying into an aristocratic North Shore family, as the Tarleton family surely were, meant he had to provide Cathy a home worthy of her heritage. For all of Cathy's generosity, she was a bit spoiled. She took for granted that she would always have the best around her, and David provided that with the home in Brookville.
When I was a child, my dad would pile us all into the car on a crisp autumn Sunday afternoon for a drive into "the country." That meant a drive along Northern Boulevard and through the curving, tree-lined lanes of Brookville and Old Brookville. Later on as a college student, I rode horses at fancy stable frequented by the super wealthy in Brookville. Much later, in my 20s, I worked in the area. I grew very familiar with the families, the mansions, the whole "North Shore" and "Gold Coast" mindset which I imagine that Cathy and David, to some degree, had as part of their surroundings.
Setting in novels is critical for their realism. It can also hint at deeper meanings. Tibor's immigrant roots, David's Brookville home…each bears with it a shade of meaning in I Believe You.
For more about the setting in I Believe You:
What Readers Are Saying
Amazon reviews posted this week:
A gripping story that was very well written. I couldn't put it down – very entertaining.
Format: Kindle Edition
Verified Purchase
This was a thoughtful, well-written story. I especially enjoyed how well the deaf child was portrayed, and the honesty of the family dynamics.
I Believe You on Amazon – Kindle and Paperback